Checkout lets your customers search and buy your vehicles remotely. It even lets them add optional extras, apply for finance and arrange collection or delivery. For a small additional cost, you can also add our part exchange package, allowing your customers to see how part exchange will affect their deposit and payments.
Within Codeweavers Checkout, a customer can complete all of the following steps;
1. Value their current vehicle for use as a part exchange (this is an optional extra).
2. Browse and select from a list of Optional Extras (VAPs)
3. Reserve the vehicle by putting down a refundable reservation fee.
4. Apply for finance for their new car.
5. Choose a preferred handover option.
Part Exchange (Optional)
The customer can add details of their current vehicle and answer a few questions to give an indication of the equity they can add to any cash deposit. Vehicle valuations are based on CAP data but can be enhanced using tools in our Showroom System. As mentioned this isn't included within the journey and would be an optional extra.
Once a valuation has been completed, the customer can add their part exchange equity to their finance quote for a truly personalised deal. They will also receive an email confirmation of the valuation with a link to return to the Checkout if they choose to drop out at this point.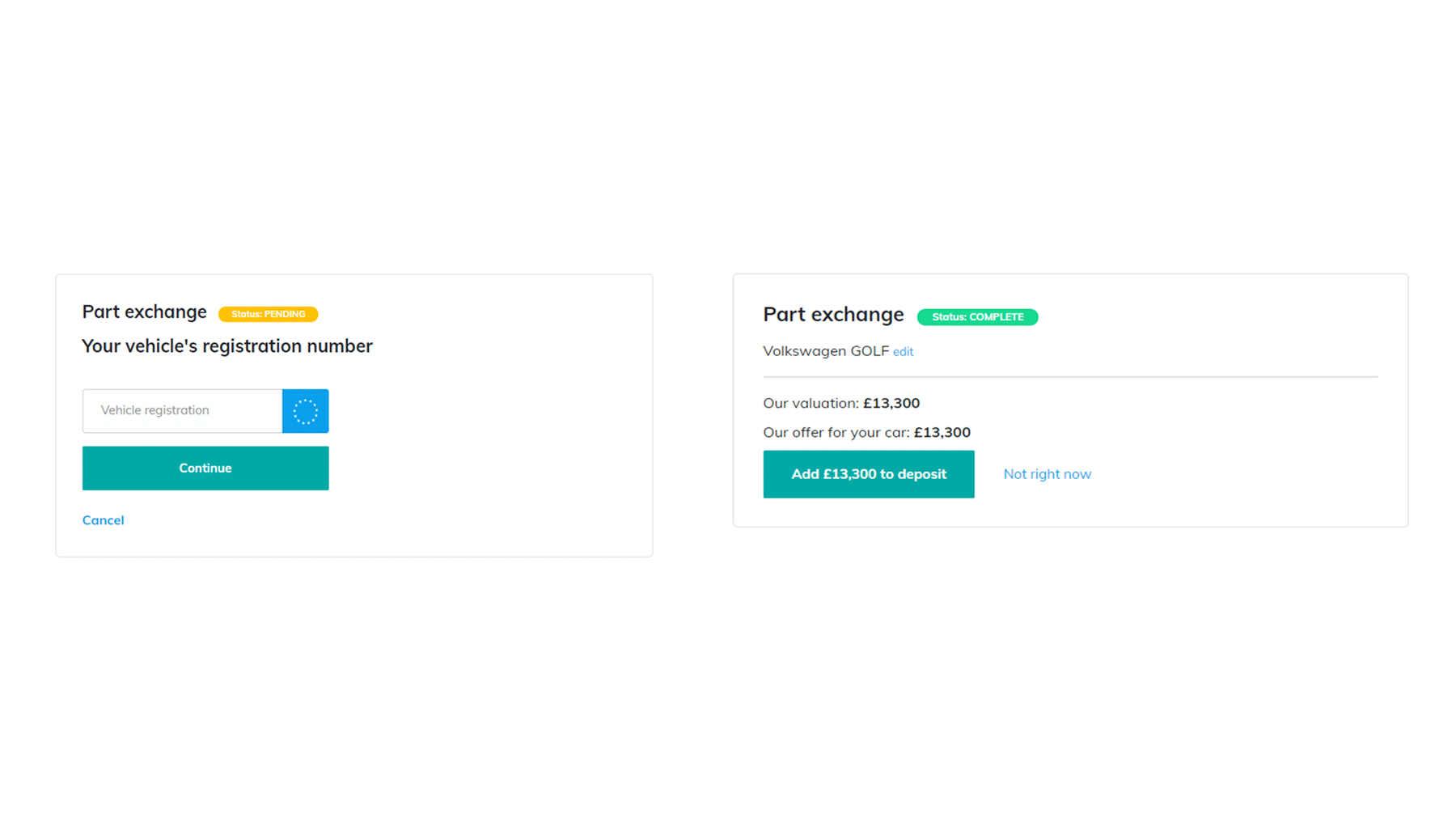 Optional Extras - AKA VAPs (Optional)
Within the Checkout, we can showcase Value Added Products to customers who choose to buy a car online. These can be tailored to your needs to only show the products that are available for the finance option that has been selected and give an overview of the VAP to allow customers to make an informed choice. We can also link to a web page on your website to show all available information for each VAP.
Vehicle Reservation (Required)
We ask a customer to reserve their selected vehicle during Checkout to show commitment and to prevent multiple orders being placed for the same car. The customer simply completes a short form and their payment is processed via the Stripe payment gateway.
This step is mandatory in the Checkout, no matter what finance product has been selected, so you need to have an account set up and activated with Stripe before we can set up Checkout.
Following the completion of the reservation payment, the vehicle is marked as Reserved in Codeweavers system and no other customers can order the same vehicle. On the stock locator and iframe plugin, we will display the vehicle as Reserved.
The customer will receive a confirmation email for this step which includes a link back to checkout if they chose to drop out at this point. A notification will be sent to the users assigned to the relevant retailer location (if notifications have been activated for each user) and the status of the order will update in Codeweavers Showroom application.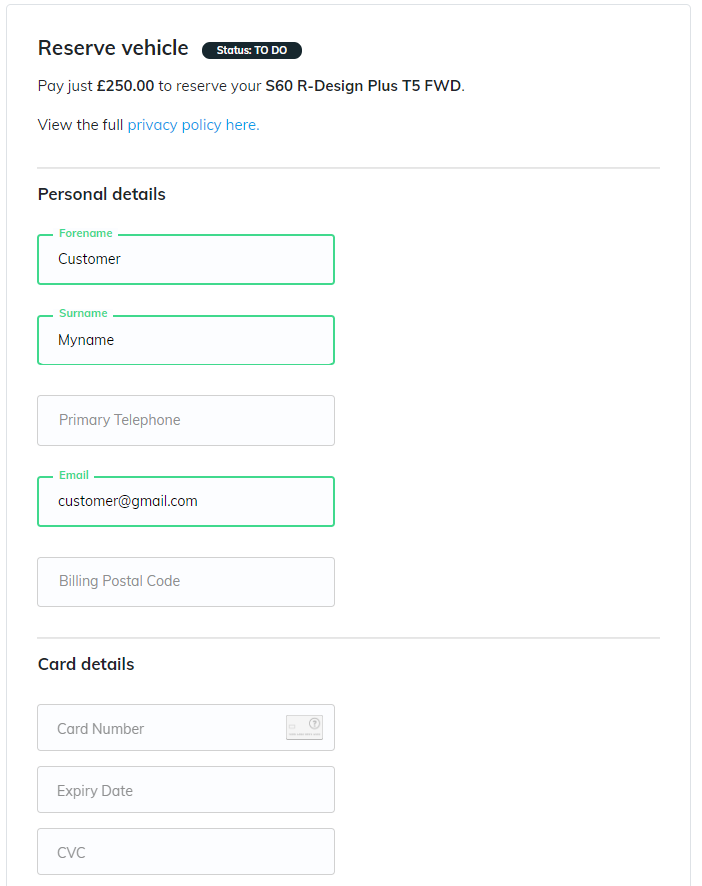 Customer Email Confirmations
The customer will receive a confirmation email for this step which includes a link back to checkout if they chose to drop out at this point.
A successful reservation will also trigger an email to be sent to you providing confirmation of the transaction and a link to the customer within the Showroom System.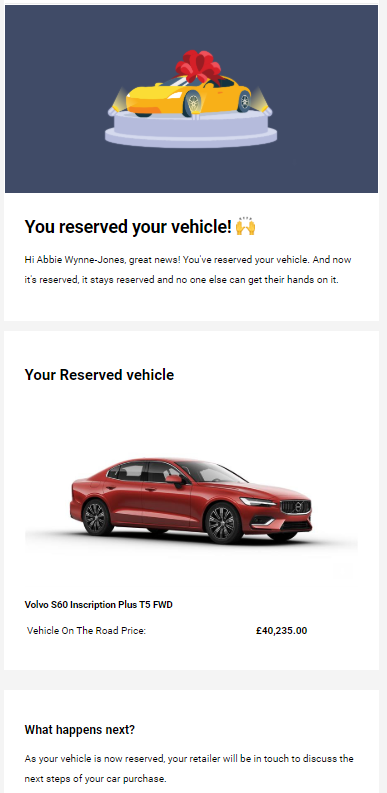 Finance Application (Required if applicable)
Our application form captures all the details that you and your lenders need to know in order to make a lending decision. These details are stored in our Showroom System and can be sent to the lender automatically if needed. This step is skipped if the customer has chosen to buy the vehicle outright.
Codeweavers work with a wide range of lenders. Speak to your Account Manager or Sales contact for more details on the integrations we have available. Alternatively, you can pick up the lead and carry the application forward with the appropriate lender manually.
After the application has been submitted, the customer will receive an email confirmation with a link to get back into the Checkout if they drop off at this point. You can also receive a notification of this action being completed if needed.
Handover (Optional)
If you offer a delivery service for the vehicles you sell online, we can replicate your delivery fee structure if you charge per mile (distance between the customer's delivery address and the store) or a flat fee. If no delivery service is offered, we ask the customer to confirm they want to collect the vehicle and show a list of the documents and items to bring with them so that the collection of their new car will be seamless.
Complete Order (Optional)
After all steps on the Checkout have been completed, we ask the customer to complete their order and push this to you. This is optional but it indicates that the customer is done making changes to their order and, if they haven't done so already, they need to speak to you.
An email confirmation of the order and a summary of the completed steps are sent to the customer. This includes a link to get back to the order in case they want to check over any details. 
Contact us
If you have any further questions around Checkout, please get in touch with a member of our team by emailing support@codeweavers.net.