People
Supporting Grassroots Football
Earlier in my career, I worked in the marketing team at Stoke City Football Club. One of the aspects that have always made me proud to work for the club has been the ongoing support around Grassroots football alongside the great work done by the community trust team, both in supporting grassroots teams and supporting girls interested in the sport.

Earlier in the week, we spoke with Millie Bright about the importance of supporting grassroots football;
Without us, there is no them, and without them, there is no future. It is so vital we all play our part in developing the pathway for young girls to kick start their football careers, starting from grassroots all the way up. So proud of everyone involved and working towards the same goal.Millie Bright, England women's national football team.


I was privileged to have met many of the women who played for the Stoke City Women's team. Although equality within the sport and the workplace has gotten a lot better in recent years, there is still far less exposure and support around women's football alongside equality for women within the Automotive industry.
Recently we spoke with Beth Roberts from Stoke City Ladies FC; she had mentioned that:
Grassroots football is an essential part in developing players for the future; it encourages new players to improve their football skills whilst having fun. It's a way to develop and focus on local talent as well as improving the confidence of players, regardless of where each player is from. Like me, many of the elite women's players began at grassroots teams where the love for the game begins; supporting this is a must.


We are currently one of the sponsors of the girls Blurton Reds Emeralds team, coached by our very own Adam Canay. It has always been great to see how passionate Adam is in supporting his daughter around her passion for football, as well as all the fantastic work he has done with their team.
Last weekend, the under 10s girls Blurton Reds Emeralds team, coached by our very own Adam Canay, reached the John Slim Memorial Trophy final, narrowly losing 3-1.

What a journey and experience for the girls. They have been fantastic throughout and created memories as a team and friends. What really stood out for me was that the team was still laughing and smiling at the end of the game and gave Lichfield the congratulations they deserved. I couldn't be prouder of these girls, an absolute privilege to coach.
Adam Canay, Head of Retail, Codeweavers.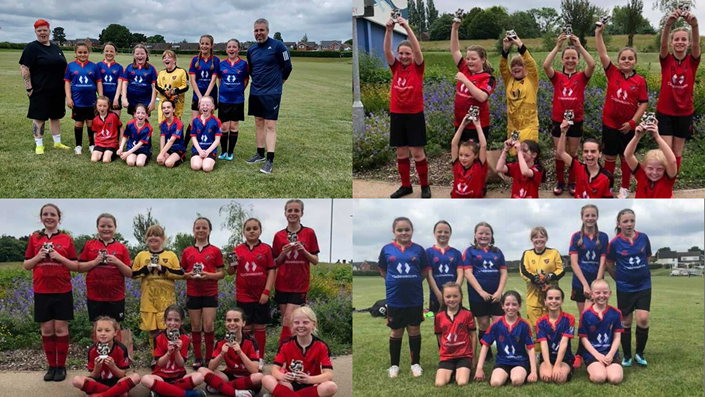 After three seasons of growth and hard work from the girls, one of the players has been offered a contract by Stoke Ladies, demonstrating that grassroots is an excellent step towards achieving success. 
We wanted to congratulate everyone at the Blurton Reds Girls team on their fantastic work in reaching the finals, and from everyone at Codeweavers, we wish them the best of luck in their next season.