Products
Put your foot down for faster promotions
Your free trial of Promotions is live
You can start using your free trial of our brand new product Promotions today, just in time for Black Friday and Cyber Monday.
From manual to automatic
Just to let you know, Promotions has been automatically switched on in your Codeweavers system from now until 9th December. You'll find it can revolutionise your promotions process because, instead of laboriously listing every vehicle manually, you'll be able to list them all at a stroke!
In today's challenging market it's important to be proactive and be out in time for what customers expect and look for. Manual processes slow you down and you risk to lose the right moment. With your business in mind we created Promotions app, a simple tool to slash time from conception to delivery of your offers.
Do let us know if you need any help in getting started. Our support team can help you start creating promotions. And we also have a 'how to' guide ready to send you should you need it.
Once your trial has ended your Promotions product will be withdrawn . If you like it, though, as we hope and think you will, you can keep it. All you'll need to do is get in touch with us.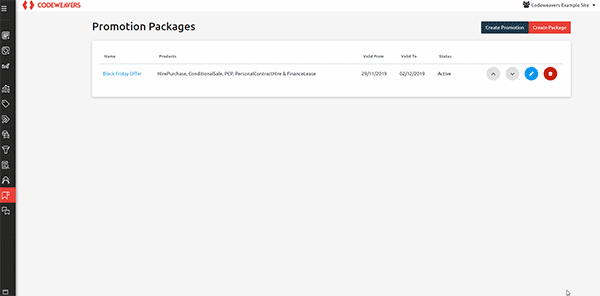 What you can do with our new promotions product
You can create a promotion and then add as many vehicles as you would like.





Offers can be time limited and create as many/few as you wish





Create a different offer each day. We suggest your biggest offers should be on Black Friday and Cyber Monday.





Your offers can be added to all of the websites your vehicles are displayed.





Let the power of finance help you sell more cars





If you need to change something quickly, the offer will be updated immediately.





You can create offers from a VRM, VIN or Manufacturer Code.





You can import and export spreadsheets
Quick, easy and hassle-free
With this brand new product it'll be quick and easy to create promotions on as many vehicles as you like. Giving you back valuable time you can devote to looking after your customers.
Everything about Promotions is designed to accelerate the process of creating promotions. And, whether you need to create one off promotions or seasonal campaigns, Promotions has you covered.
Quicker turnaround means increased turnover
Find out more about how Codeweavers Promotions can help you sell more cars by contacting our support team at support@codeweavers.net or on 0800 021 0888.