Automotive
Free solutions to help you sell remotely
If your web agency isn't already providing you with an alternative solution, we're offering you our Checkout and Remote Apply solutions free for 3 months to help you get through these seriously challenging times.
Join our webinar to find out more
We're hosting a webinar on Wednesday 1st April at 1 pm so you can find out more about Checkout and Remote Apply and ask any questions you may have. We also will be offering more guidance on how to effectively sell remotely.
To sign up to our webinar click here

Why are we doing this?
We're in this together. We are all experiencing an extremely testing time. It's impacting businesses, we are all facing challenges, both at work and in our personal lives, there are many uncertainties and we are working to keep the most vulnerable in our society safe. 
We want to make sure your business is set up to let your customers buy your vehicles and finance them remotely as many start to self-isolate and quarantine. Your business shouldn't have to suffer because you haven't the same footfall in your showroom. Let your customers buy and finance your vehicles through your website.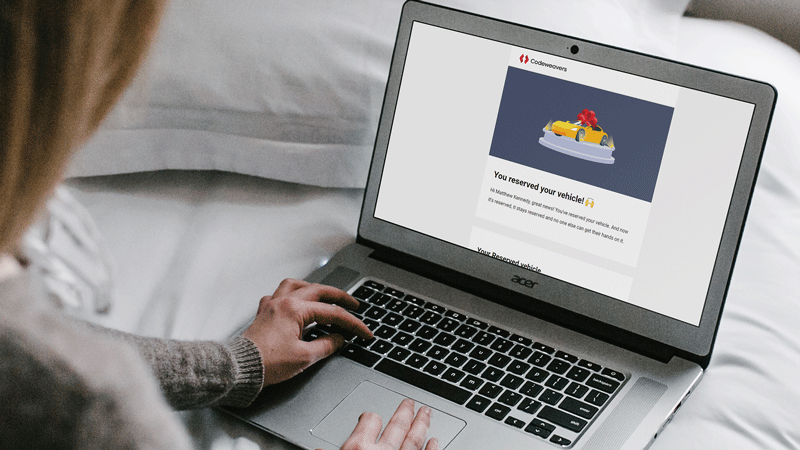 How can Codeweavers help me?
For three months, we're giving you access to Checkout and Remote Apply. 
Checkout lets your customers search and buy your vehicles remotely. It even lets them add optional extras, apply for finance and arrange collection or delivery. For a small additional cost, you can also add our part exchange package, allowing your customers to see how part exchange will affect their deposit and payments.
Remote Apply lets you invite customers to personalise and apply for finance on multiple vehicles, wherever your customers are in the world.
Both solutions let you work wherever you need to work and let your customers buy wherever they are. A win-win for everyone and a very simple process too! Less paperwork, less time-consuming. A solution to help make social distancing easier as we all know how important it is at this challenging time.
How Checkout works?
To give you a brief overview, we simply integrate this solution into your website.
Here's the steps your customers will go through
Your customer finds a vehicle they would like to buy from you.
They click on a 'buy it now' button (or something similar) from where they will be taken into the Codeweavers Checkout journey. Here they enter their email address and consent to the privacy policies. When this is complete, this information will be collected for you.
Once in the checkout journey:
Step 1: They can part-exchange a vehicle (optional extra in the journey and you will incur a small charge)
Step 2: Add any optional extras
Step 3: Reserve the vehicle and enter their payment details
Step 4: Apply for finance
Step 5: Enter their personal details such as address history 
Step 6: Enter any notes they have
Step 7: Select their method of handover by arranging collection or deliver
Step 8: Place order!
How Remote Apply works
As a retailer you need to access Codeweavers Showroom to create finance quotes on a vehicle or access a pre-existing quote through your leads. You can create as many finance quotes as you would like on as many vehicles as you want.
Your customers can then be invited to view these quotes. You can select which quotes you want them to take a look at and an invite will be sent to them via email. Once they click on the link in the email they will be taken into the Remote Apply journey from where they can select the vehicle and quote they are interested in. 
Once they are happy with their decision they can then go on to apply for finance. All the information that they enter will be fed to you instantly. The application will be automatically submitted to your chosen lender/s and you will be notified once your customer has completed the application.
Getting through it together
Together we can get through this difficult time. We're here to help in any way we can whether that be support or giving you solutions that will help you get through this. If you would like these solutions get in touch with us via email on: sales@codeweavers.net.