Products
Driving change today.
A desire to improve is in our DNA and we take this seriously when it comes to our products. Based on our product data insights and feedback from you, we've made some changes to our Checkout solution. Checkout allows your customers to purchase vehicles from your website in a few simple steps. These changes will be made live from Tuesday 9th June 2020.
The first set of changes being made is; 
Removing the login screen

Styling changes

Adding a save for later function 

Performance improvements 
Why are we making these changes?
Looking into our product data insights, and conducting some investigation into drop-offs, we found that the login page was providing a higher drop off than we anticipated.
Steering your customers in the right direction
By removing the login screen, and providing a better experience for your customers, these changes will provide a number of benefits for you, including:
Increased number of leads

Increased number of online sales

Better customer experience

Fewer drop-offs
A smooth journey from start to finish
By changing the style to better match your website, we believe this will lead to an increase in customer confidence when buying from you. This will provide a seamless journey for your customers from when they're viewing your vehicles to purchasing, without them feeling like they're leaving your website.
Your customers will now be able to jump straight into the Checkout journey as soon as they click the call to action. If you have the part exchange feature enabled, they will be able to get a valuation on their vehicle before entering any other details.
The performance changes will help decrease loading times providing a quicker experience for your customers, with research showing that "47% of consumers expect a web page to load in 2 seconds or less" (Patel)
Start now, finish later
Your customers now have more control over their purchase allowing them to save the stage of the journey they're up to and jump right back in when they please. If your customers opt to 'save now, finish later' they will be sent an email, reminding them of the next steps and allowing them to continue with their purchase.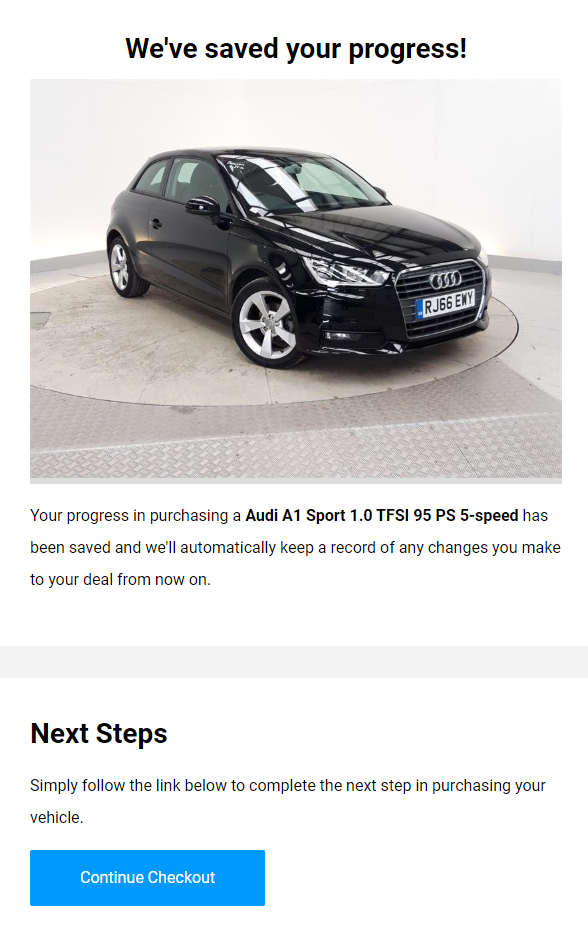 Reacting to how your customers want to buy vehicles
Want to have a quick overview of the updated journey? Watch the video below:
Continually improving
We're always looking to improve our solutions over time and if you have any feedback on the changes to our Checkout solution, email us on info@codeweavers.net or phone us on 0800 021 0888.