Weybridge Vehicles Consultants
We want to sell more finance

online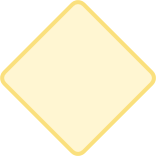 What they needed?
Weybridge Vehicles wanted to sell more finance through their website and offer their customers personalised finance and the ability to apply for finance right then and there. As they work with multiple finance lenders, they also needed the ability to display each of their finance lenders' quotes using their rates and terms.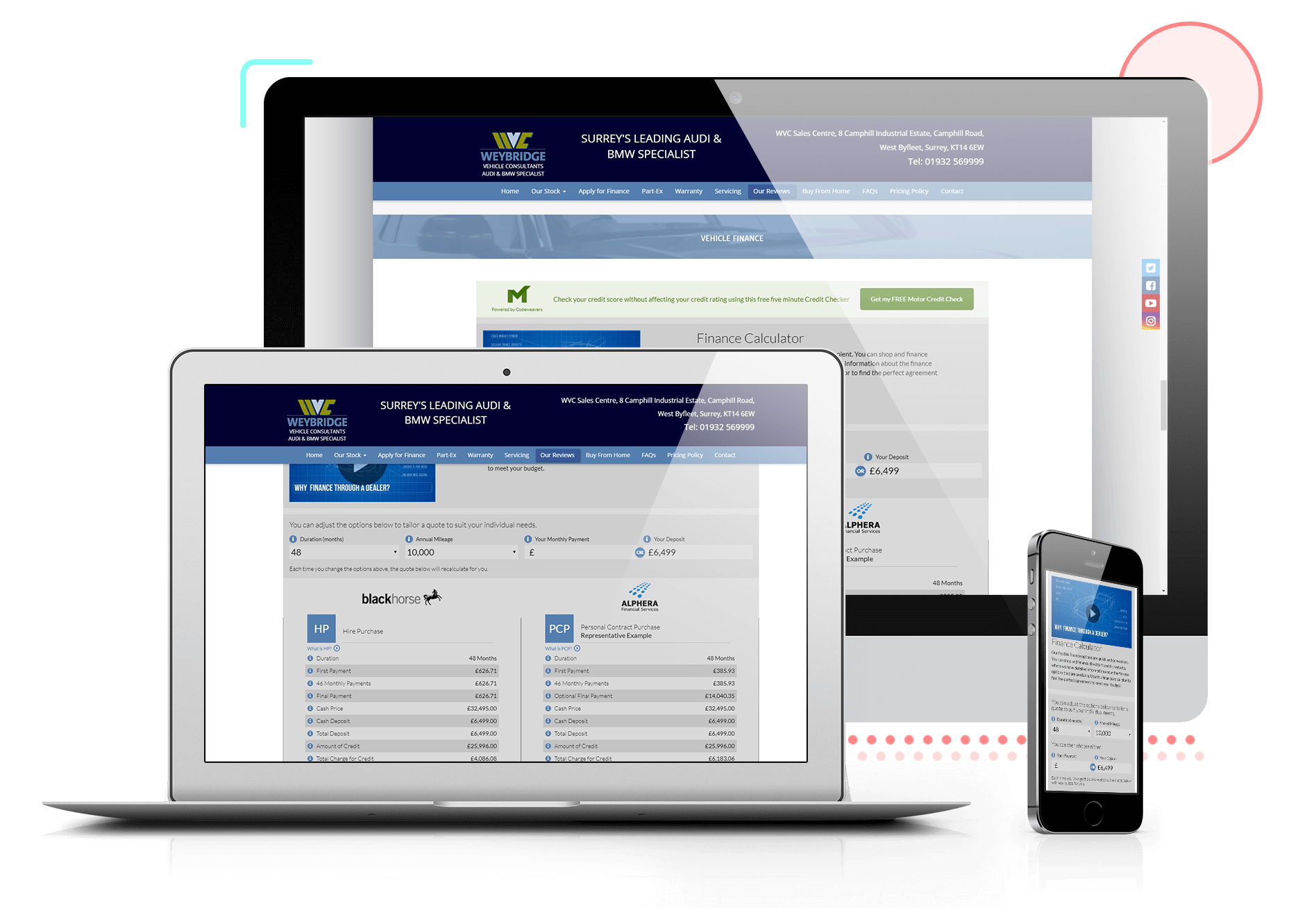 Why did they chose

Codeweavers
Multi-lender platform
Codeweavers could provide a multi-lender platform that replicates a dealer's lender's finance calculations
Speed of Delivery
Codeweavers solutions are quick and simple to add to any website due to plugin technology
Partnerships and integration with third parties
Codeweavers work with Weybridge's chosen web agency and they'd seen our solutions on other Starkwood websites
What did Codeweavers

provide?
How it works
We provided a range of solutions to help Weybridge sell more finance online and manage finance effectively in their showroom, also allowing car buyers to see a monthly finance price next to each vehicle on their website.
Once the car buyer chooses a vehicle, they can click to apply for finance, where they'll be taken to a Codeweavers finance calculator plugin. Using the plugin, they can personalise finance based on duration, annual mileage, monthly payments and deposit.
If the buyer doesn't know much about finance products, we've added videos to the calculator to give a brief overview of each product.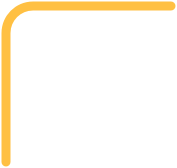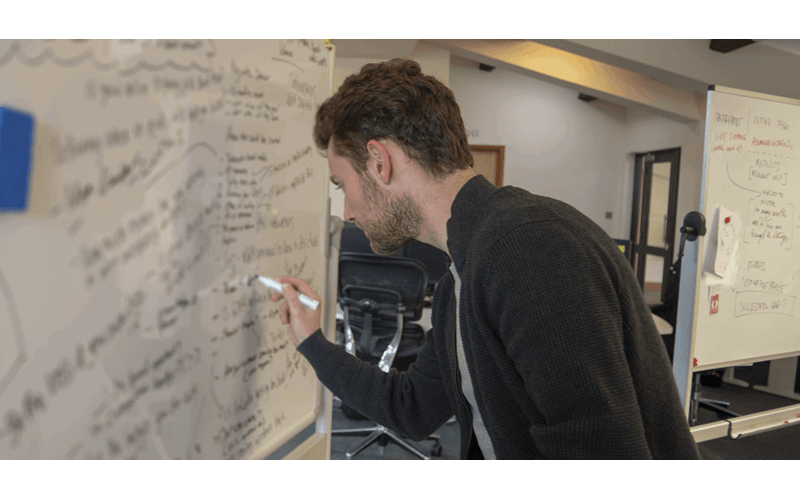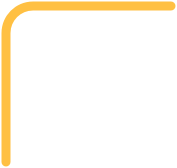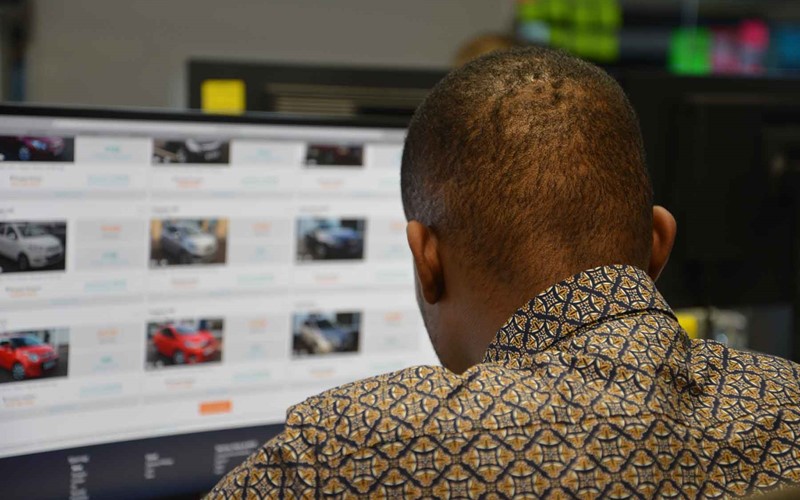 How it works
Once they're happy with their quote they have several options. They can either:
Email the quote

Print the quote

Apply for finance there and then!
To make sure Weybridge has the contact details of the buyer, the Codeweavers apply form collects data line by line, which means even if the car buyer doesn't complete the form they'll still receive the lead.
How it works
Weybridge is instantly notified when any buyer starts to complete a finance application and when they complete it. Their customer information can be managed effectively through our Showroom System. Once completed. The finance applications can be easily submitted to the lenders that Weybridge works with.
In addition to this, we also provided a soft credit check solution. It gives customers a more seamless journey by immediately letting them know if they can or can't afford the car they're looking at.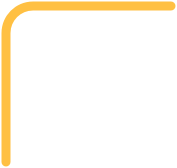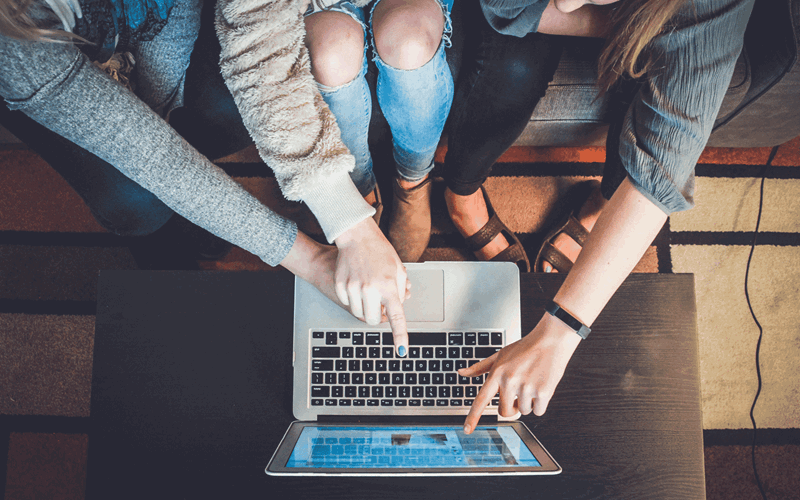 Take a look at what we

achieved
Weybridge benefits
All Weybridges finance data, leads and proposals from their website and showroom are available in one system, making it so simple to manage!
Our range of calculators are fully compliant with GDPR and FCA regulations, meaning less stress for Weybridge
Weybridge were provided with a range of car finance stats and trends so they knew exactly what their customers wanted
Our solutions raise awareness and understanding of finance for Weybridge customers
As our solutions move the focus away from the cash price, Weybridge vehicles look more affordable as they are showing monthly payments, helping them sell more
High lead to sale conversion using Codeweavers Motor Credit Check tool on their website
By offering a finance way of buying online, Weybridge are opening themselves up to new types of customers who wouldn't necessarily visit their showroom
Increase in finance penetration
Can this solution help

you?