Our support phone line is currently unavailable
Due to unprecedented demand and in order to optimise our service response, for the time being we are unable to take your calls.
If you have any queries, issues, or requests, email support@codeweavers.net or contact your account manager directly.
Got it
Women of Silicon Roundabout
This week four ladies and a gent from Codeweavers went down to London for the Women of Silicon Roundabout conference. In short, it was fantastic! For more details and to dispel some misconceptions see below…
Indie, our male member of #ConferenceClub shared the following conversation with me as we arrived at the event. He had been asked numerous times, 'Why are you going to a girls conference?' His response was perfect, 'Have you seen the speaker line up?' I've heard many variations of this question, along with, why do women need their own conference? So I've outlined the most compelling reasons below.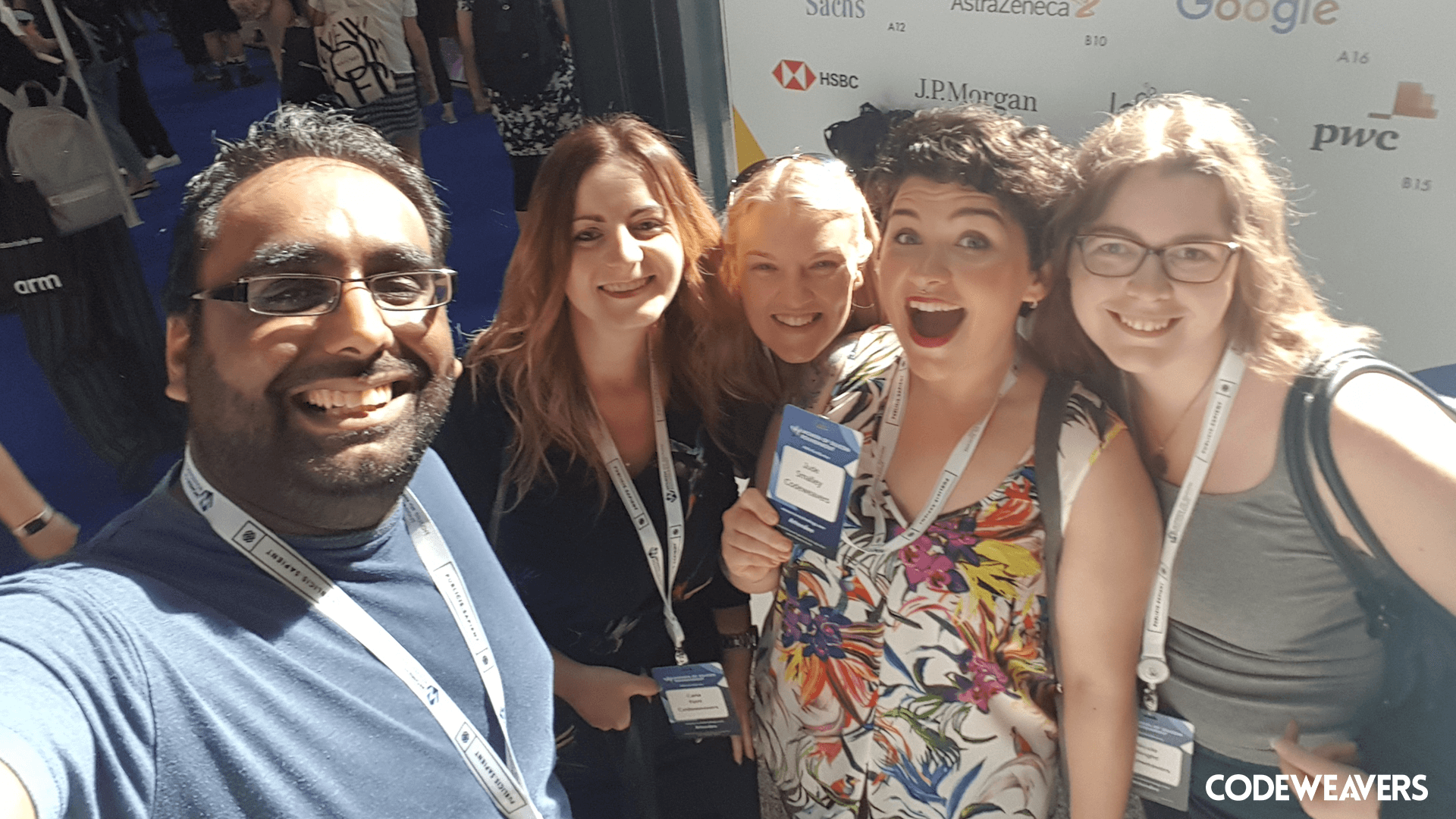 We need one because women are not well represented in the majority of tech conferences, primarily as speakers but also as attendees.
We need one because of the myth young girls have that careers in STEM subjects aren't attainable.
We need one because in a tech company women are lucky to represent 10% of the company, and that drops substantially as you move up in seniority.
The aim of the conference is to give a platform for women in technology. It included sessions on all sorts of technical topics, from hacking, to cloud computing, to agile, to career inspiration and much more. The aim is to improve diversity, not just in gender but ethnicity, geography, LGBT and those differently abled than ourselves. The most successful companies represent women and minorities throughout their company, including their top layers. Research has shown the more diverse the team the better the ideas, innovation and solutions.
There were so many brilliant speakers, it's hard to pick just highlights! For me personally, the top three had to be:
Jo Hannaford, Head of Technology, EMA & Global Head of QA Engineering at Goldman Sachs, delivered a session on 'How do we Attract, Develop and Retain More Women in Technology?' Jo led us through her career and gave a fantastic and inspiring talk on why the gender bias in technology and STEM industries is a recent problem. She highlighted the women involved in technology innovation throughout our history, she made it clear that the only thing stopping girls now is their own belief in themselves. A career in technology and STEM is possible! She supports various initiatives to make coding, in particular, more accessible to young girls.
LinkedIn: Joanne Hannaford
Jody Davids Senior Vice President and Global CIO at PepsiCo delivered 'Life Shapes Leadership.' Jody told her inspiring story of how finding your purpose in life and work is important. She did this by sharing a story about her son, who made the decision at 15 to enlist after 9/11. When he was old enough he became a US Marine, and later gave his life willingly for his country. In his goodbye letter, he acknowledged that he died doing what he thought was right for him, for what he believed to be his purpose. At that point her second son took up his mantle and enlisted, to continue his brother's purpose. She used this story to show how she found her purpose and started giving back. She had the whole room on an emotional knife edge throughout her talk.
LinkedIn Jody Davids
The third was Launching Successful Agile Projects workshop, which was led by varying people from Zuhlke Engineering. This session was based around the techniques in the book Liftoff Launching Agile Teams & Projects. It was a wonderful, practical session which would work really well in Agile teams. It went through some exercises to support defining the purpose of a project and aligning your team to that purpose. I shall certainly be reading the book and talking to our teams about it.
LinkedIn Zuhlke Group
There were so many sessions I could outline, but the message I really want to share is that this was an awesome conference for both genders and I would recommend it to anyone who likes tech and supports diversity.
So if you've reached this point I can likely request something of you… Encourage your sisters and daughters into STEM, she can do it!
Lastly, your company needs to represent your customers to get the best solutions for them! Ask yourself, does it? And if not, can you help?
To find out more about this conference head here
---