Our support phone line is currently unavailable
Due to unprecedented demand and in order to optimise our service response, for the time being we are unable to take your calls.
If you have any queries, issues, or requests, email support@codeweavers.net or contact your account manager directly.
Got it
The UI tools I used at University compared to the tools I use at work
Is University teaching us the wrong tools to develop for modern user interfaces?
I've worked at Codeweavers for just under 2 years designing user interfaces and when I first started I experienced a dramatic learning curve. Designing UI within the industry is very different to what I learned at University. The main problem I've experienced is that some software cannot meet the needs of clients that require pixel perfect designs in demanding timeframes.
This is just my personal experience and I'm sure other UI Designers have their own set of tools they prefer to use, but my point is;
Is University educating us with the wrong tools to develop for modern user interfaces?
The tools I used in University
Designing for user interfaces in University felt magic at first. You had all the tools and software at your disposal to start designing and producing projects and assignments, but what I didn't expect is that the tools are completely different in the workplace!
One of the key tools I always designed with at University was Photoshop. It is great for image editing/painting software but in the workplace, it's very limited. For example, in University I was designing between 8 and 14 pages for each project. However, now I'm crafting full end to end retail journeys that can easily end up with hundreds of screens. If I still used Photoshop as my main tool for designing I would struggle to even make it past 12 pages due to its limitations around functionality and features.
Photoshop is great for editing yourself onto a rainbow while eating pizza and leading a pack of unicorns into battle. The platform suffers, however, when you start designing complex UI systems. It lacks in performance and features compared to tools such as Sketch, Invision Studio and Adobe XD to name a few. I never actually had an issue with Photoshop until I started working within the industry on bigger projects and I had to embrace a whole new approach to design.

The tools I use now
Working at Codeweavers my fellow designers showed me the light and banished Photoshop away from memory, using extreme memory erasing techniques (or should I say they gave me a Mac and a license for Sketch).
Using Sketch has been a lifesaver!
Ok, I wouldn't go that far but it has definitely made my life a lot easier. I don't get the constant crashing due to the 100-gigabyte .PSD files clogging up my hard drive. I think of Sketch as if it were Heinz tomato ketchup; it's smooth, beautiful and - if it had a taste - would taste incredible!
Alongside Sketch I also use Invision. This is a great tool to show prototypes to clients without printing or sending them multiple .pngs trying to explain a complex system. Not only does Invision enable users to view a prototype but they can also leave comments/feedback on the design (pretty neat eh?).
But Sketch is Mac only!
Hold on, hold on… you're right, what if I don't have a Mac? Yes, Sketch is Mac only but there is always Adobe XD which essentially does the same job as Sketch and is available on most other platforms.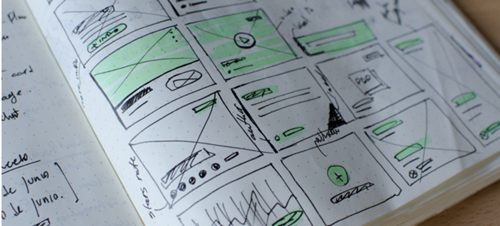 Dangers of using the incorrect tools
Using the wrong design tools can be extremely dangerous and time-consuming within the industry. For example, I have 67 screens for a client and the client decides to change the colour of their primary calls to action to bright pink (we all have that one client). Instantly, you have a big problem. You now have 67 screens that are all out of date and the deadline is right around the corner.
Using Photoshop I would have to manually change all 67 screens and have a really tedious and mortifying task on my hands. Yet with Sketch, this is the kind of task I welcome with open arms. In Sketch, I can simply change one symbol and it will apply this change to all screens. Bish bash bosh, Job done!
Wrapping up
At University I was provided with basic tools and guidance to craft user interfaces but my lecturers weren't necessarily teaching from industry experience. For this reason I blame my studies and university syllabus. That being said, I didn't research other tools to diversify my design work while I was studying, so I was unaware of them when I came to work with Codeweavers. A little research goes a long way.
Yes, we all have our own preferred design tools, but Photoshop should definitely not one of them (in regards to UI design that is). I think we all get a little too comfy in our design environments and it's in our nature to hate change, but with how fast the industry is evolving, this is something that we all need to embrace.
Looking back at my 2 years within the industry I can say that I have transferred my basic skill set into these new prototyping tools and evolved with them. Yes, using Adobe Photoshop / Illustrator to create user interfaces has been a nightmare but that nightmare has officially ended.
I'd suggest if you see yourself working in a similar field, you contact fellow designers within the industry, drop them a DM and find out exactly what they use. A great place to start would be by challenging your lecturers/teachers — something that I did not do.
---