Staffordshire Business Festival in a Day - Marketing Morning
A marketing event worth talking about
Last week I attended the "Staffordshire Business Festival in a Day" run by the Staffordshire Chamber of Commerce. I went along to see the marketing morning which focused on branding, but was it worthwhile?
It was free to attend and was hosted just around the corner from our offices, so I thought why not!
The morning consisted of a one on one interview with Sophie Seddon. It was great to hear Sophie's own journey in marketing and how she got to where she is now.
If all you allow marketing to do is colour in, you are not going to get the value out of it
Sophie Seddon - Novus
This was one of the key points that stood out to me during Sophie's speech and not just because it made me laugh or the fact I have heard the phrase "Oh you are in marketing, do you enjoy colouring in" hundreds of times. It stood out to me as she went on to underline the importance of marketing within any company and how powerful it can be.
The question I would like to ask you is are you really using and getting the most out of your marketing team?
Putting too many restraints and regulations in place and over guiding your marketing team too much won't allow your marketing team to truly market your company how they should be.
The next topic that came up was PR and the different methods of getting your company's brand out there. It was not only great to hear how much of an effect traditional methods of marketing worked but also how much of an effect online content had such as blog posts, SEO and online press releases.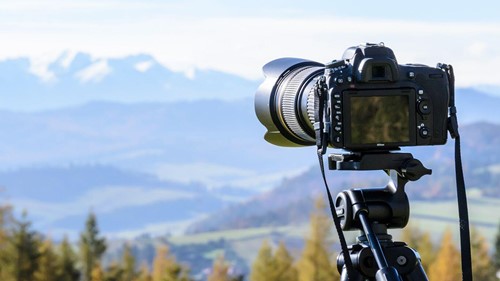 The power of great imagery
Another really interesting point Sophie raised was the power that great imagery has alongside a good press piece or even a blog post to help get your content shared more and picked up by local and trade press.
Be careful though, if you are using an image you have found online on your companies website make sure it has commercial licensing so you don't get done for image copyrighting!
The next part of the marketing morning was a Q&A Panel which featured xAmeliax, Lizzie Roberts, Nadine Rowley, Zafar Jamati and Hayley Plimley. It was great to hear from senior members in marketing roles across a range of different industries and get their views on the importance of branding and a company's brand image.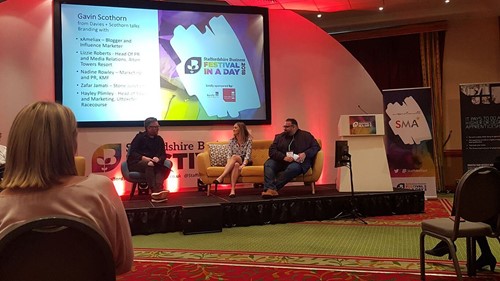 One of the questions asked in the Q&A was;
What is a brand?
The best way I can explain brand is a person's view about a company or product. Brand and the importance of a brand image is a conversation that comes up in our office a lot and one that brings up a lot of confusion and different views. When we speak about brand, we tend to hear the same few companies coming up whether its Microsoft, Apple, Tesla or Coca Cola. Now it is easy bringing up examples of huge corporations who spend millions upon millions on marketing and advertising every year, of course people are going to speak about it, you can't go a day with seeing an Apple logo, especially if you work right beside your design department!
Listening to the Q&A Panel, two words kept coming up, consistency and authenticity, two things that I believe a lot of us overlook, these two things are so important in helping you build and establish your brand, especially in today's digital age.
A great example that came up was from xAmeliax a blogger and influencer marketer saying "Using an influencer can help your brand a personal touch for your brand" and this actually brings me back to my previous point about larger brands such as Tesla, what's made their brand so successful? One thing they have done really well is using influencers to talk about their products, such as influential YouTubers like Marques Brownlee and Casey Neistat. My colleague Charlotte has spoken about influencer marketing in much more detail so be sure to read her blog post here to find out more.
If there is one thing I would urge you to take away from this it would be to reach out to an influencer around you, whether it's a blogger or a YouTuber. This could be done by getting a blogger to write a post on their experience while in your business or even writing a review around one of your cars.
The roundup
For me over the past year I have really had a drive to learn more around not only my role but marketing in general and to have the opportunity to hear from a panel who shared such a large amount of knowledge made this one of my favourite events from this year after the Codeweavers Annual Automotive Vision Conference of course, although I may be a bit biassed!
If you want to speak about this further or would like any help in strengthening your brand get in touch by dropping me an email at mattkennedy@codeweavers.net
---