My first 6 weeks in the QA team at Codeweavers
Christian Dabnor joined Codeweavers 6 weeks ago as a Quality Assurance Engineer. We have asked him to share his experiences of being a new weaver at Codeweavers.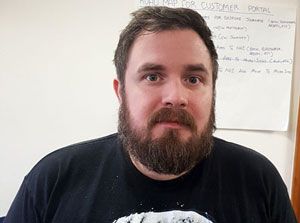 What brought you to Codeweavers?
In all honesty, it was word of mouth. I was speaking to someone who already works at Codeweavers and they said what a great place it was to work. In fact, their words were 'the best place you'll ever work'. They also mentioned how laid back Codeweavers was and the environment was very much like Uni.
How are you finding things so far at Codeweavers?
I've really enjoyed my first 6 weeks at Codeweavers. It's great that I can take card days so I can continually expand my skills (card days are days that can be used to take time to learn new things or improve on my current skills or work on any project I would like to work on). Resources are there for learning, so anyone in the company can continually improve their skills and have the option to learn new things.
People at Codeweavers are really approachable and are always offering advice and assistance.
What's your favourite thing you have been working on?
I've been working on a larger project for a high-end manufacturer for my first 6 weeks and I've particularly enjoyed working on the user experience side of the project, an area of QA that I had not focused on before.
What's been your hardest challenge so far at Codeweavers?
Although I'm really enjoying it, learning a new angle of QA has been particularly challenging as historically I've been more involved in the more technical side of QA, but I'm finding it really interesting and can't wait to learn more about user experience. I'm finding that I'm continually improving as I'm able to learn from my different experiences, and colleagues, at Codeweavers so far.
I'd been at my previous employer's for a number of years, so it's very strange joining a new company, but everyone has been so welcoming.
What tech have you used so far?
Interestingly, even though I'm not a developer I've been given the time and space to be able to learn new languages. I've been using card days to learn about languages C# and NUnit, both of which I've always been keen to learn about, as I really think understanding these languages will help me improve my Quality Assurance skills.
How are you finding the way of working?
As the way of working is squad-based, it's very interactive, which keeps you on your toes and no one is ever left to deal with tasks by themselves. In my area of work, I've noticed issues are resolved extremely quickly and the way of working is very reactive and fast pace.
---