Codeweavers System Update - November 2018
As we continue to work on improving your Showroom System (your business may call Showroom System something else), we will be making changes to the navigation. These changes will make it much quicker for you to access the different areas of your Showroom System by providing clearer icons and providing a much smoother experience for you!
When will the changes be made?
The changes to the navigation will be happening over several iterations, with the first set of changes coming this week.
Early Access
You can try out the updated navigation by clicking on the 'Join Early Access' icon which can be found in the top right area of your Showroom System, once you have logged in. You will have up to 4 weeks to try out the new view and share with us any feedback you may have over this time before it remains permanent.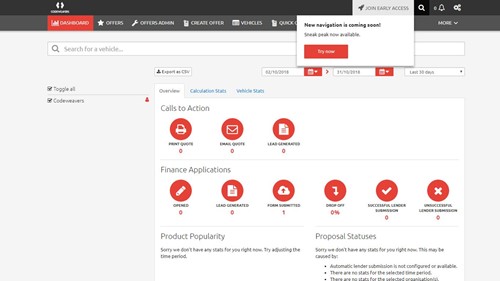 Side Navigation
The main change in the navigation has been changing the design to a side navigation style. There are a number of benefits to this, the new navigation increases your screen real estate, so there is more room on your screen for what matters. The new navigation is also collapsible, making it less distracting, by clicking on minimise, you can collapse the menu down, giving you even more space.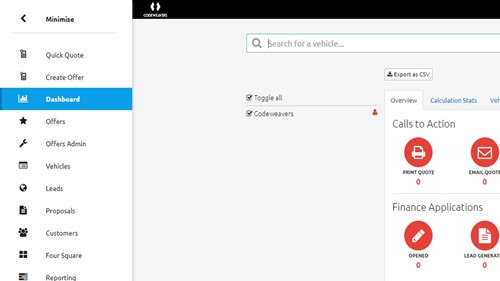 One of the key reasons for us changing the design of the navigation is to start to change how it works for you, making the navigation more journey than task based.
Mobile friendly
The latest update around Showrooms navigation paves the way to making it more mobile friendly - you will now be able to use Showroom from your mobile device with ease!
Further Information
If you have any further questions about the changes coming to the navigation please contact a member of our support team by calling us on Tel 0800 021 0888 or email us at support@codeweavers.net
---