Codeweavers System Update - December 2018
Your Showroom Homepage is Changing
As we continue to work on improving your Showroom System (your business may call Showroom something else), we will be adding new features and making changes to the homepage, making it easier and quicker for you to get your everyday tasks completed.
We hope you enjoyed the trial period of the new navigation, we will now be making these changes permanent.
When will the changes be made?
The changes to the navigation will be happening over the next week, by now you should have had plenty of time to trial and send us feedback.
Onboard Helper
"What is an Onboard Helper?" I hear you ask.
We have a new feature 'Onboard Helper' in Showroom that will take you through the new navigation changes to make the transition between the two versions as smooth and easy as possible. Our 'Onboard Helper' wizard will give you the option to take a tour around our new navigation. You will also be able to bring back the helper at any time if you need a refresh!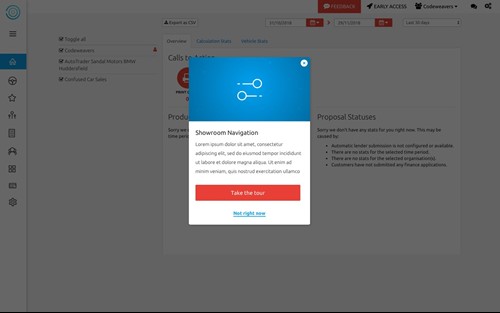 Statistics
You may have also noticed that we have renamed Dashboard to Statistics, making it clearer where all of the stats around Showroom can be found.
Quick Access
We also grouped some of the most commonly used actions at the top of the navigation, so that you can quickly access the areas of Showroom you use the most, such as creating an offer or a quote.
Further Information
If you have any further questions about the changes coming to Showroom please contact a member of our support team by calling us on Tel 0800 021 0888 or email us at support@codeweavers.net
---