Our support phone line is currently unavailable
Due to unprecedented demand and in order to optimise our service response, for the time being we are unable to take your calls.
If you have any queries, issues, or requests, email support@codeweavers.net or contact your account manager directly.
Got it
Codeweavers are taking part in Bangers4BEN for the fifth year running
This year, the Codeweavers team consists of David Stevenson and Adam Canay both Regional Sales Managers at Codeweavers.
Last year saw Adam and David take flight in their Star Wars themed vehicle, with the car being kitted out to match the iconic X-Wing fighter.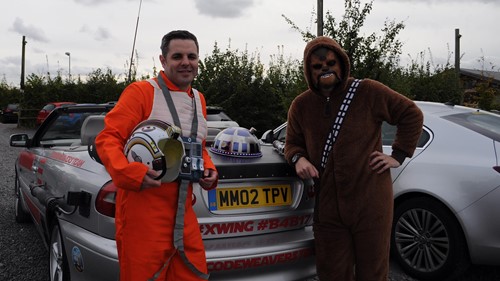 Yes, Chewbacca is wearing a watch.
Location, Location, Location!
This year, the event be starting at Mercedes-Benz World in Weybridge, before heading for the Channel Tunnel and on to France.
Day One Weybridge to Reims, France via the Channel Tunnel
Day Two Reims to Stuttgart, Germany
Day Three Stuttgart to Bruges, Belgium
Day Four Bruges to a mystery location
We would like to raise as much money as we can for the challenge as it goes to BEN Charity. BEN makes positive differences to people's lives, helping those from the automotive industry and their families deal with any problems they may be facing.
If you would like to sponsor us and help to support a good cause please visit the following link.  
---