Client Liaison

Program
Get involved in Codeweavers Client Liaison Program
Location
Barn 4, Dunston Business Village, Stafford, ST18 9AB
Working week
8:30am-5pm, Mon - Fri
Description
This training program is specially designed for people who are looking to learn new skills or try something they've never tried before. This isn't for developer roles, although we also have programs for these; we have many other creative, supportive and operational teams that we want to add to as well.
Our new program is open to everyone! We're looking at anyone from sixth form/college-leavers with relevant A Levels or equivalent, to graduates or those looking for a change in career. We're especially interested in subjects and skills like Finance, Business, Politics, Management, Tech or Maths studies.
If you have a keen interest in us, our industry or our roles and if you're flexible with a real drive to succeed: we'd like to speak to you.
How It Works
The training will be different depending on your background, but will take a minimum of 2 years (with a maximum of 4 years if on an apprenticeship). You'll spend this time in various roles throughout the company, giving you a taste and the experience of each one, so you'll feel really confident in the role you might settle into by the end.
The training is hands-on and experience-focused. You'll finish your program with a much more developed skill set and expertise in multiple different job roles. People who engage fully and enthusiastically will finish with all the skills they need to flourish in their chosen role.
Example: If you've just finished your A-levels or equivalent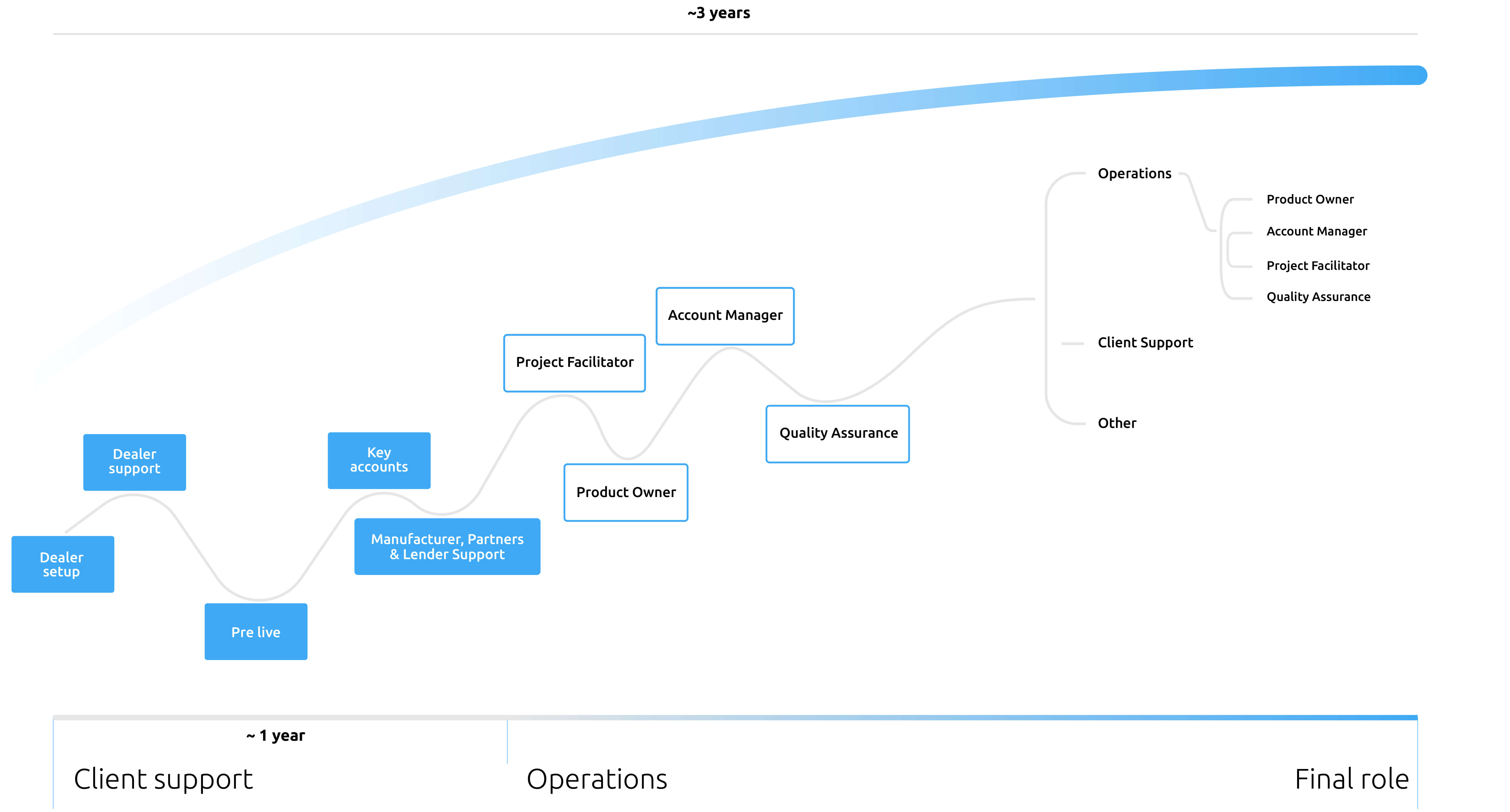 Stage 1 
All roads start in Client Support. Depending on your experience, you'll spend anywhere from 6 months to 18 months here. You'll go in working with a friendly team and you'll come out a Codeweavers expert. After engaging with our customers, products and procedures, you'll be completely ready to start Stage 2.
Stage 2
After Client Support, you'll spend around 6 months in the Operations team, which contains Product Owners, Account Managers, Project Facilitators and Quality Assurance Engineers. You'll have a wealth of people to learn from!
Stage 3 
You know what makes the company tick, you're familiar with your peers, and now you get to narrow your focus down and spend a year working in the kind of role you'd like to make a career out of. Hopefully during stage 2 you'll decide one of the roles you've tried feels right for you, if so you'll transition into a longer term placement here.
We aren't limiting the program to Operational roles, so after consultation with the business, you could choose from the following:
Client Liason - Various
Product Owner
Account manager
Project facilitator
Quality assurance engineer
Other new roles, dependent on your interests and our needs
Applications are now closed.
Our openings for the Client Liason Programme have now closed, but don't worry! We will update this section when it starts up again. Want to know more? Contact our recruitment team at careers@codeweavers.net